Seekor anjing laut Atlantik abu-abu berhasil
d
iselamatkan dari kolam pembangkit listrik tenaga nuklir (PLTN) milik EDF Energy Hinkley Point di Somerset, Inggris, sewaktu hewan laut itu terjebak saat memburu ikan.
Syukurnya, anjing laut yang diberinama Celia oleh staf EDF Energy Hinkley Point ini tidak cedera. Padahal ia terjebak di kolam tersebut selama lima hari. "Celia sangat senang berada di sana karena banyak ikan... ia sudah cukup gemuk," kata juru bicara EDF Energy Hinkley Point, Senin (20/6).
Celia berhasil dievakuasi setelah staf Royal Society for Prevention of Cruelty to Animals (RSPCA) dan tim darurat EDF membuat ayunan dan menyewa mesin derek untuk mengangkatnya dari kolam.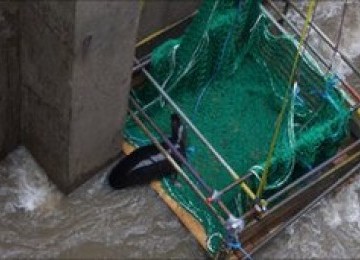 Celia ketika diselamatkan dari kolam pembangkit tenaga listrik.
Celia kemudian dikembalikan ke laut yang terletak beberapa kilometer di sebelah barat instalasi EDF guna mencegahnya kembali lagi.
Kebanyakan PLTN mengambil air dari laut atau sungai di dekatnya sebagai pendingin reaktor nuklir. Ikan biasanya memasuki ruang saluran air, dan cuma segelintir anjing laut yang pernah menemukan jalan ke kolam tersebut. Di antara segelintir yang berhasil itu adalah Celia.